Welcome to PauloQuiros.com, site and fansite for Paulo Quiros
---

The Film Reroll has reached as high as #2 on the iTunes Tv & Film podcast charts, and broken into the top 100 overall, a surprising achievement for a show in its first year, which has spread entirely by word of mouth.

PQ plays a role on BrainDead, currently airing Sunday nights at 10pm on CBS. Paulo's character will be introduced on August 7th.

PQ performs in a staged reading of "How the Colds Were Razed" a new play by Cristina Florencia Castro. It performs this Sunday, July 10th at 7pm, at the American Shakespeare Festival Theatre as part of the New Works Lab at Stratford.

Paulo played a small role as an antagonist introduced late in the first season of BrainDead on CBS. The show was cancelled after one season so we never got to see more of Paulo's character.
Paulo portrayed Menzo in a closed presentation of Empire, mounted for industry professionals for the purpose of producing it on Broadway in the coming season.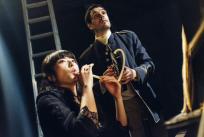 As Smirnoff in The Bear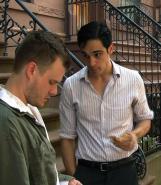 Still from Poppies for a Funeral